Vol. IV, Issue #3 - March 2016
Strat-o-matic Baseball League
League Champion -- PART II

** "World Baseball League" – Ted Wesley **
(It is time to meet the champion of the World Baseball League as he was introduced
to us by the league's commissioner Jeff Chaput. This is our second time we have
talked to a SOM Baseball League Champion to discover their secrets ......)

(Notes from the Wolfman: The World Baseball League, or WBL, has been around since 1977. Currently they have two divisions, one known as the American and the other as the National. They keep their players from year to year and have an annual draft of the eligible players not owned by any team. With just 14 teams in the league, there are usually good pickings. Eligibility is based on a minimum amount of plate appearances for the positional players and innings pitched for the starters and relievers. Over half of the current owners have been involved with the WBL since the 1980s. Most of the remaining managers arrived in the 1990s, with the exception of two who came into the league in the last five years including their current champion, Ted Wesley, who we had this chance to interview thanks to commissioner Chaput. So this is the second league champion we have an opportunity to meet through this new column for our newsletter. Let's listen carefully as Ted talks about some of his keys for his success ...)

---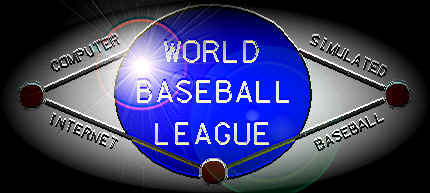 Wolfman: To continue our coverage of the WBL (World Baseball League) as besides speaking to their commissioner Jeff Chaput, we also have a chance to speak to their current league champion, Ted Wesley. As we will continue to ask the leagues we interview, like we did with NASOMA last month (February), to speak to their current champs.

Ted, I want to thank you for accepting my invitation to speak to us. Welcome to the Ultimate Strat Baseball Newsletter.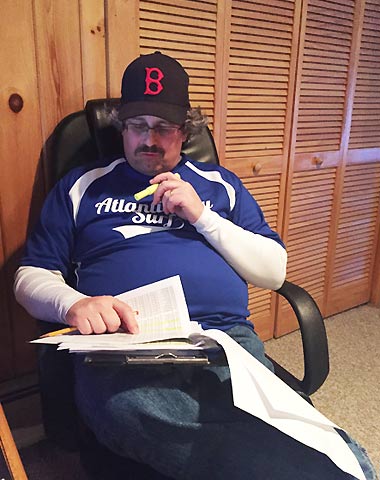 Ted: Thank you for contacting me regarding the World Baseball League. Commissioner Jeff Chaput and the two assistant commissioners Matt Chaput & Conner Chaput run a tremendous league that mimic's MLB.

Wolfman: Ted, I normally ask a few personal questions first to give our members a chance to meet you and know a little bit about your background before we talk about Strat. So first, which part of the world do you live in right now and is this where you grew up?
Ted: I grew up in Northern New Jersey (Ramsey). I currently reside in Pittsfield, Massachusetts.

Wolfman: When you were younger - did you actually play baseball and if so what was your best position?

(Photo of Ted above taken during the WBL 2016 live draft day held on March 18th)
Ted: My youngest memory of playing was with a whiffle ball at about 4 or 5 years old with my best friend Jeff Friedson who lived across the street. I played baseball as soon as I was eligible in the town league and played through the Babe Ruth league or level.
My best position was second base. I also was the third base coach for my varsity High School team. I was the first student to be a third base coach in the league, flashing signs, sending runners and I was a pinch hitter and runner as well.

Wolfman: What about which MLB team did you root for when you were younger and are you still a fan of this team? Are there any ball players you really followed or were your favorites or idols?
Ted: I have always been and will always be a Boston Red Sox fan. My favorite National League team is the New York Mets. My favorite Red Sox's were Yaz, Rico Petrocelli and Reggie Smith. Favorite Met was Tom Seaver.
My favorite player that played before I was born was Ted Williams, who in my opinion there has never been a better hitter and he was the first true player to study the art of hitting. I have read "My Turn at Bat" several times.
My best friend Jeff Friedson was as big a Yankee fan as I was a Sox fan. We always played baseball and baseball games together, SOM, and various other baseball table games.

Wolfman: How did you hear about SOM Baseball? When did you first begin to play the game?

Ted: My friend Jeff had the game and I played with him. I was about 12 years old.

Wolfman: What is your history participating in leagues (face-to-face or computer based)?
Ted: As a kid I played face to face. The WBL season is computer based and playoffs are face to face.
Wolfman: Have you ever played in any tournaments? Ted: No.

Wolfman: How did you become a member of the WBL, how many years have you played in the league - which team do you manage?
Ted: My real live boss is Matt Chaput. We talked about his SOM league all the time at work. As soon as there was a team opening, he asked if I'd be interested. I was a rookie team owner/manager last year. I manage the Atlantic City Surf.

Wolfman: As I indicated, Jeff said you are the current league champion - can you tell us about this championship team - which players do you have?
Ted: Michael Saunders, Freddie Freeman, Jose Altuve, Jake Arrieta, Zack Greinke, Adrois Chapman, Craig Kimbrel, Koji Uehara and Danny Salazar.
Wolfman: How did you build your team?
Ted: Last year I had to draft a catcher (Norris & Grandal) and starting pitchers. The team was in very good shape when I became the manager.

Wolfman: What are the keys to your success with this team?
Ted: A balanced approach. Fielding, Hitting and pitching.
Wolfman: Is there special strategies you use to build your team?
Ted: I value OBP over the long ball. My special orientation when I am playing my games is that I like pitchers that strike out a high percentage of hitters and batters with a low strikeout percentage.

Wolfman: Have you won other seasons before in the WBL (or for that matter any other leagues you have played in)?
Ted: I played in an online league (SymDynasty) a few years ago. I would take over "orphaned" teams and have a fair amount of success leading most teams to the playoffs but I never won a championship.

Wolfman: We always ask those we interview if they have any tips or advice for our members that could help them with success with their own game playing?
Ted: I recommend to draft by results and not by the famous name of the players. Be fully engaged (in your league) from preparing for the draft through your daily team management.
Wolfman: What are the keys for a league manager to create and play with a good and competing team in your opinion?
Ted: Do not underestimate the value of a good pitching staff. I prefer to have a balanced batting order than a couple of home run hitters.

Wolfman: Have you ever tried to play the on-line baseball leagues that Strat-o-matic Offers? Ted: No.

Wolfman: What do you like about the WBL?
Ted: The way the league is run, our need to manage our injuries, the drafts we do, plus not only being able to contend now but also the ability to draft players for the future. The league is updated every day as well as if any new trades take place. I like the excellent use of available statistical information that helps us to build our team.
There is a great history to our league and many good stories I could talk about of past games and the drafts. Many of our owners are local and when we meet for our lunches they are entirely focused upon the league and the games we have played; who is in first with a bit of friendly trash talking and discussions about the trades made throughout the year.
Wolfman: What are the members like in this league from your perspective?
Ted: The other league members have great knowledge of the game, and a willingness to make trades, as well as make a great effort into building their teams. It is truly a good group of engaged team owners.

Wolfman: Have you had any special experiences (certain games that stand out in your mind that you played or series you played) being a manager in the WBL that were amazing or very unusual games, or something you are proud of? Maybe some key trade you made ...
Ted: Well denying Matt Chaput (my boss) and the historic Seattle Jets their 9th World Championship this year was pretty cool. We made the biggest deal ever, prior to Opening Day, as Seattle sent us Freddie Freeman, Mike Minor, plus their 2015 2nd round and 2015 3rd round draft picks for Jonathan Papelbon, Gio Gonzalez, Joe Mauer and my 2015 1st round pick. The trade worked out well for both teams as Seattle used the first round pick for Josh Harrison and with the 2nd pick I chose Jake Arrieta and the 3rd round pick was used for Phil Hughes who had the second lowest ERA in the league at 2.67

Wolfman: Why do you personally like playing SOM?
Ted: I enjoy the realism and opportunity to play the game as if I was sitting in the dugout managing. It also keeps me really engaged in the entire MLB season. I follow the Atlantic City Surf players in the MLB.

Wolfman: Finally is there anything else you would like to share with our members that I didn't ask you before that you think is important to let them know about?
Ted: Your SOM game play is truly enhanced when you participate in a league. I'm very fortunate to be a part of one of the best leagues around. I encourage all SOM players to be a part of a league.

Wolfman: So thanks Ted for spending time with us. Good Luck in the next season of the WBL (do you think you will be their 2016 champ?)
Ted: Wolfman, thank you for publishing this fine newsletter (USBN) and spotlighting the WBL. I'm going to give it my best effort even though some owners think of The Surf as a AAA team, LOL. There is tremendous managerial talent with very good teams to challenge me for the crown.

Wolfman: And if a member of the newsletter wanted to contact you or had some questions for you, what is the best way to do it?
Ted: Please feel free to email me at TedW344@gmail.com, I'll be happy to discuss the WBL or SOM.
Enjoy the MLB and SOM baseball season.
Wolfman: All the best and thank you.

Note: -- To Read the Interview with the commissioner of the WBL from this month's issue, just click on the link here: [ WBL Commissioner Interview ]
================================
(Final Comments from the Wolfman: It is always nice to see how good friends (I mean your Boss at work - wow!) have a love for this game. We wish to acknowledge Ted for the accomplishment to win this highly competitive league in his second year. I know it took me 7 years before I won my 1st league during my 3rd time being in the World Series. Thanks, Wolfman Shapiro :-) )