Vol. IV, Issue #3 - March 2016
Strat-o-matic Baseball League
Member Overview of a Multi-Faceted League

** "Minor League Strat" – Wolfman Shapiro **
(I have been waiting for almost two years to find a second league to join.
A couple of years back, I gave me name to a wondrous on-line strat-o-matic
drafting system called www.stratdraft.com where leagues can post
about their openings and I finally found the right league.)

(Notes from the Wolfman: In early February of this year, I responded to a notice I received via StratDraft, of a new league forming. My criteria was it had to be a computer based league which used a CM or computer manager for the games to be played, as I have a pretty busy personal schedule including what I do for my livelyhood so I only have time to tweek my CM for my team. The name of this league was called the Minor League Strat (MLS) which had a focus on building your minor league component of your team as well as your Major League Franchise.
The reason I felt inspired to write this article is because the MLS has some totally different aspects (activities) linked to this league that I have not ever done before that I thought were way cool. And also, I could share some of my philosophies for building a new team in an SOM league which I haven't done for awhile for our newsletter.
Therefore, since I am always looking for unique stories and situations to share with our members (maybe some of these activities and strategies might inspire other leagues to add these features) I thought I would write about what my experiences linked to the MLS and the processes we each went through to build our teams.
The commissioner prefers to stay behind the scenes, so I will respect his request (but he knows I planned to write this article) and just share my own perspectives as a participant. The commissioner did tell me that when he was thinking about how to form the MLS, he wanted to combine the best aspects of a number of strat-o-matic baseball leagues he has played in before. Thus, as the name implies, he also wanted the MLS to have a strong focus on building a solid minor league franchise for our teams as well, just as real-life MLB franchises do.
However, initially, the minor league aspect of our teams won't be such a factor for our 1st year, we will have the same luxury as teams in the Major Leagues do, to develop talented young players to supplement our major league franchise going forward. Again, although the other league I currently play in does allow us to draft prospects (as uncarded players who are signed to a major league franchise), the MLS was giving us the ability to have 45 minor league players to control. This means I would have to become very knowledgable about which players are in the minors and listen to scouting reports which I have never done before either.
So please find below my report about this new league called Minor League Strat as well as the building of my team, the Skokie Wolfmen - what else(?), as we prepare for our inagural season starting April 4th. This will be another example for our readers of how to construct a team through the combination of the drafts and auctions we went through in this 24 man league. Also this article is indirectly linked to the new column I have been doing since last November, where I am interviewing commissioners and champions of various leagues that exist, as I would guess that probably about 70-75% of all SOM baseball gamers are linked to some version of a league in one form or another.)

---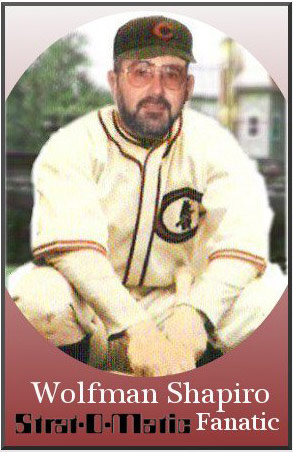 The Skokie Wolfmen Rise Again
(- or also known as the KC Boys - )
It took a few days before my request for membership was accepted into the MLS, but since this league had a lot of new rules and a different way to build our teams (while we were waiting for our 1st draft), I took that time during my first week or so, to ask a lot of questions. I thought for sure the league management might re-decide to grant to me a new franchise in this league, as perhaps all the questions I was asking might have been driving them crazy. You know how us Wolfmen can be, right? However, the league office said it was no problem and encouraged me to ask even more. You see for me, if you are going to compete in a league, especially in a new league with rules you have never played with before, to be successful you most understand all the nuances to build a strong team and I mean every nuance.
For example in the main league I have played in since 2004, the first year I joined I found a loop-hole in their rules. This was linked to what players that I could use for each series I played, with two series of games called a block that were done each week. After that year, the rule was changed so that you had to keep the same 25 players for both series in a block. Therefore, the MLS had some new features I wasn't accustomed to such as: How about working with a salary cap of 135 Million? Here is how this salary cap worked.....
In the MSL, each player on your major league roster had a salary attached which was the salary that respective MLB player was paid in 2015. The only exception to this rule is for any players you drafted (or received via our auctions) that didn't have at least a minimum of either 50 Innings Pitched in their major league career, or 135 Plate Appearances as a positional player in their career. These players were considered part of your minor league system and thus, they had no salary. So this means, that collectively we had to make sure all of the salaries of our major league players didn't go beyond this salary cap of 135 Million. (Note - the salary cap is used in the 365 Baseball Leagues - so I had a feeling for this nuance.)
Now for myself, and I am sure there are other members of our newsletter who can relate directly to the following philosophy, when one is joining a new league: "Its a lot of fun to meet new gamers who play the game we love that are members of this league. But, I am a "Wolfman" and my joy is to create a team that has the chance to 'Win it All'!" So this is why you really need to know the rules backward and forward of your new league, and how the activities you engage in to build your team (like the 3-round draft we did and the various auctions we went through), will bring to you a team of players you want to be the manager of.
Also since I am in my 3rd season in my other computer-based league of doing a total re-build (stocking up on good young players, following the model down by many team now especially Kansas City, the Cubs, Houston, etc ) - I needed a new challenge to keep me going. And thus, the MLS was the ticket and the answer to my prayer. It has been great fun going through each step that our illustrious commissioner has laid out for us to create our teams, to create the new Wolfmen of the MLS. Let me explain these steps now.
Some of the leagues that exist, you just draft players and have rules about how many players you can keep at most during your season. Then when the league finishes, you are only allowed to keep so many (a number has to be released) to prepare for a new draft that usually takes place in February or March of the following year. But in the case of the MLS, creating our teams was not going to be so simple. Besides having to pay attention to the individual player's salaries and keep this total amount under the salary cap, we also had to pay attention to the carded players we would be drafting that were defined as minor league players along with real MLB's minor league franchises. So during our initial 3-round draft we went through, using inverse order of the previous round, that was created to build the foundation of our teams we drafted:

1) A MLB Team's Hitters; 2) A MLB Team's Pitchers; 3) and a whole MLB team's farm system. So this method to build our teams required a whole other initial study to prepare for this as well but of course this made the creation of our teams happen faster. Of course, as we began to trade players, a year or so from now, you probably wouldn't recognize the teams we initially picked.
Now, each MLB team has 6 or 7 minor league franchises within the U.S. which provides another 200-300 players or so. So before we began this three round draft, not only did I have to study all the new cards (I used the computer game to do this) but after this study, I also ranked each MLB team for their hitting, pitching and farm system. The league office then did a drawing to determine our order of drafting. I was hoping to a have middle draft pick but I came up with the 22nd pick out of 24.
Since I like to play with a hitting team with power, I tried to predict what MLB team's hitters might be available by my late 1st round pick. I thought most people would go after their team's hitters or pitchers first and then wait for their farm system till the 3rd round but there were two member teams who took their farm in the 1st round. As a Wolfman, I don't like to have to wait to have a good team so I can assure you I wasn't one of the GMs who took their farm system this early.
Of course there were a few MLB teams, who had very high collective salaries for their hitters or pitchers, which might signify that these team components would not be selected by any manager due to this, as it would be a great challenge to get your full team under the salary cap if already half of the team was at 135 Million or higher. For example, Boston hitters were over 91 Million, the Chicago Cubs pitchers was over 90 Million, or the Yankee Hitters were 148 Million (naturally this team's hitters were not picked) and the Los Angeles Dodger Pitchers were 110 Million while their hitters were 124 Million (and believe it or not both parts of the Dodgers were chosen with quite a few players being cut. I am sure it was tempting to get the two LA starting pitchers of Kershaw and Grienke).
Of course, working with the player's salaries gives you a better appreciation for how things really work in MLB and why sometimes a very good player is traded away seemingly for peanuts or just a handful of minor league prospects, because that star player's high salary had to be dumped. We also had to be aware of this aspect of our players too. The league allowed us to keep from 36-40 carded strat players in our Majors (who have more then the minimum PAs or IPs in their professional careers) and any carded minor league players (which could be about 10 players or so at this early juncture). Also those carded players we called minor leaguers could still be used in our league games up to their real life IPs or PAs as they did in 2015. Are you still following me how the MLS was working and what we had to do to prepare for the first draft?

What Happened in the MLS Inaugural 3-Round Draft?
Ok, so lets go into a summary then of this first draft to get the three components of our teams. I decided that at the 22nd pick, the best MLB hitting and pitching teams would definitely be gone so that if I went for the best hitters that I could get, that most likely either Colorado or Detroit would be available. Of course, some of the MLS managers went for their hometown teams which might not have been the best pick. For example the Chicago Cub Hitters were the 1st pick and although there is no doubt the Cubs have some great young hitters, overall they were not the best hitting team and had a low on-base average (too many strikeouts). Again, the Washington Hitters were the league's second pick in the first round and yes they do have Harper but many of their hitters struggled in 2015. On the 9th pick, the Los Angeles Dodger Farm system was selected (but by league rules, any minor league player who received a card like Seager would belong to the person who chose the Dodger Hitters for example) and on the 21st pick, the Houston Farm system went. Certainly these two farm systems are considered the best.
Then my pick came up, the 22nd pick, and although in the first 21 picks, 13 hitter's teams were picked, the Kansas City Royal Hitters were still around with the Detroit and Colorado hitters. Since the Royals were the World Champions with the possibility of six one's in the field, and lower salaries for all the great young players they have for a few years to come, I couldn't turn this down even though I instinctively knew I would have to play my new team in a different way then I hoped. My dream to have good power and average hitting would have to be put aside as I would have to count on playing more small ball. So to review then, I would initially have the combination of Hosmer/Morales at 1B; Zorbist/Infante at 2B; Escobar at SS; Moustakas at 3B; Perez at C; and in the OF I had Cain/Dyson/Gordon/Rios/Gnomes/Orlando. (With Dyson in CF and Cain in RF, this produces 6 fielding "1"s). Note, any player who was traded during the season like Zorbist, the team he played for at the end of the year received him. BTW, this league doesn't use a DH so if I played Morales he would have to play 1B and it would be a tough decision as both he and Hosmer had great years.
Ok then, my pick in the second round was coming soon, it was the 3rd pick of this round. And as it happened, upon viewing the remaining pitching teams left (the Indians, Mets, Dodgers, Nationals, Cardinals, Cubs, Blue Jays and Astros were already picked) for this round, it just turned out that the best overall pitching team I could acquire was the Kansas City Pitchers. They basically had 3 good starters (Cueto, Ventura, Volquez) with various other starters that could be used in different situations (Young/Duffy/Medlin/Vargas) with 3 solid relief pitchers (Davis/Herrera/Madison - Holland was hurt). So I couldn't turn down the possibility to get this combination of hitters and pitchers which were the World Champs. I was very very surprised that I could have received any part of their team at all with the late 1st round pick I had. I just blessed God and said it would be ok to change my mindset how I would play with this team. Plus, we still had our auctions coming up (which I will explain shortly) that would provide us with some other players that could fill some holes I saw with my new boys.
Then for my last pick of this initial draft, I had to pick my farm system which again this was the 22nd pick in this 3rd round. (Note: because I had such a low pick in the 3rd round, in August when we will be doing another draft of the new young players coming out from College as well as any of the young players from the six farm teams that were not chosen in this initial draft, I will have the 3rd pick in each round of this 9 round draft to obtain a few more good minor leaguers.) Also it should be further explained that only for this inaugural season, we did not have to decide who would be in our 45 man minor league farm system till November. However, any carded minor league players we obtained (via our hitter or pitching team or through trades), for the upcoming season we could keep them and if they had IPs or ABs, use them during the regular MLS season.
Now linked to the MLB farm system we picked, for a temporary time, which ever players of the minor league teams finished on these teams at the end of 2015, when the world series ended and had at least 1 IP or 1 AB during the minor league season belonged to our team till we decided our 45 players in November. So going back to my pick in the third round, as I surveyed the farm teams still available (all the good ones were gone of course by this time), it came down to the Kansas City Royals and the New York Mets minor league teams. However, I felt KC still had more good players who were about to come up to the majors in 2016 so I finished with all aspects of the Kansas City Royals. Thus, our commish decided to affectionately call me KC.
Now I want to go back to an example of what minor league players we could claim. As I surveyed my new boys, I saw Alex Rios, our primary RF didn't have a very good year. So I needed to replace my RF and I wanted to get a power hitter at this position if I could. The manager who had selected the Colorado hitters want to cut salary and he offered Cargo, Carlos Gonzalez to the whole league (a perfect player for us). He wanted three prospects that we had with Paul Orlando, our backup OFer. Of course, I wanted to get this trade done quickly. However, one of the KC Minor League Prospects that he really wanted, Seuly Matias, who I had never heard of, but he was ranked as the #17 top KC Prospect, even though he had been signed by the Royals in the summer of 2015, I couldn't claim him as part of our farm system because he didn't play at all in any minor league games last year. So I lost out on getting Cargo and I couldn't restructure the deal. It was one of those trades if it doesn't go through quickly, it can turn on you!
Lets Review the Skokie Wolfmen Major League Players after the Draft
So again remember, my team is really the Kansas City Royals, as I drafted both their hitters and pitchers, the champion Royals from 2015. Now, before I discuss the next part of the MLS team building process, which were the auctions that were conducted, lets first take a good look at the Skokie Wolfmen after the draft showing our players and their salaries that were on our Major League franchise. The key to observe, as you look at the table below, is what players might we wish to cut, to save Salary and give us space to add new players to fill our holes from the upcoming auctions.
Skokie Wolfmen
Pitchers
POS
Salary
Hitters
POS
Salary
Jeremy Guthrie
SP
$9,000,000
Alex Gordon
LF
$13,750,000
Jason Vargas
SP
$8,500,000
Alex Rios
RF
$9,500,000
Greg Holland
RP
$8,250,000
Omar Infante
2B
$7,500,000
Edinson Volquez
SP
$7,500,000
Kendrys Morales
DH
$6,500,000
Wade Davis
RP
$7,000,000
Eric Hosmer
1B
$5,650,000
Luke Hochevar
RP
$4,000,000
Alcides Escobar
SS
$3,000,000
Danny Duffy
SP
$2,425,000
Lorenzo Cain
CF
$2,725,000
Kris Medlen
RP
$2,000,000
Mike Moustakas
3B
$2,640,000
Franklin Morales
RP
$1,850,000
Salvador Perez
C
$1,750,000
Kelvin Herrera
RP
$1,600,000
Jarrod Dyson
CF
$1,225,000
Ryan Madson
RP
$850,000
Christian Colon
SS
$509,525
Yordano Ventura
SP
$750,000
Paulo Orlando
RF
$507,500
Chris Young
SP
$675,000
Jonny Gomes
LF
$4,000,000
Joba Chamberlain
RP
$1,000,000
Drew Butera
C
$987,500
Johnny Cueto
SP
$10,000,000
Ben Zobrist
2B
$7,500,000
Louis Coleman
RP
$725,000
Total Salaries Pitchers
$66,125,000
Total Salary Hitters
$67,744,525
Full Salary for the Wolfmen
$133,869,525
Amount left to Spend
$1,130,475
(From 135 million)
Lets look in the left column first, that shows our pitchers and review which pitchers would be a problem to keep our team salary cap under 135 Million. Jeremy Guthrie, who was paid 9M last year had an awful season as he was just an innings eater, so we definitely needed to cut him loose. However, if we did so, we would need to find a replacement starter in the upcoming auctions as we would lose 148 starting innings. But because Johnny Cueto finished the year with KC, as we inherited him, we received his 200+ innings so this would help us with the Guthrie innings we would lose. Also Jason Vargas only pitched 43 innings had a huge salary, so we could try to cut him as well but then, I decided later, just to keep him as his card isn't so bad and we could use him when we faced a team that is filled with very good and dangerous left handed hitters.
Greg Holland has been a great closer (I actually have him on my team in the other league), but since he got injured in 2015 his performance declined and he will be out the whole season of 2016 due to this injury. Plus, since we have Wade Davis, who does have the best closer card in the 2015 set, if we cut Holland and his 8.25M salary this would give us a way to fill more holes in our team and make sure we could afford a pretty expensive starter in the auction. The other pitcher who really wouldn't be of any help our team was Joba "the Hutt" Chamberlain, so by releasing these 3 pitchers we would then free up 18.5 MIL in salary as we hoped to add quite a few new players (for the majors and the minors) for the Wolfmen.
From the hitters point of view I was thinking to cut Morales, as our league doesn't have a DH - but actually his hitting card is very very good especially against righties and 1B only has 2 X-fielding chances on a pitcher's card so Morales will no doubt play more at 1B then Hosmer with Hosmer coming in for defense or against a reverse LHP vs LH hitters. But Alex Rios at 9.5 M (who I expressed my displeasure before) and Omar Infante (2b) at 7.5 M both had very down years. Plus at 2B, we inherited Zobrist who was with KC at the end of the year, so we could cut these guys to free up another 17 M or a total of 35.5 M plus the other 1 Million in cash we already had for being short of the salary cap gave us a total of 36.6 MIL to spend in the auctions. Not bad aye?
Now, let's address KC's holes. From a pitching perspective KC doesn't have the best starters in the league (none of the top 3 guys ace starters like Arrieta, Greinke or Krenshaw with Keuschel up there too) but they have some good decent starters who should get us into the 6th and 7th innings being helped by the FIVE "1" fielders we can start and then add a 6th "1" to the outfield late in the game along with the 3 very good relievers we have. We only really had one decent left hander in our pullpen with Morales but with those excellent righty relievers we have in Madison, Herrera and Davis its a pretty darn good bullpen. So if we could get another good lefty reliever and another good starting pitcher to replace Guthrie that should tighten up our pitchers and make it a bit tougher to beat us especially in our own (pitcher's) park.
Being an astute SOM Manager, I also saw our boys had a weakness against left handed pitching. With Hosmer, Moustakas, Gordon as left handed hitters and Rios having a very bad year in RF we needed more righty bats with power. Morales and Perez also are much weaker hitters against LHP as well. Now, the league creators decided, after we had chosen the 3 components to make our teams from our initial draft, to take the 6 MLB hitting teams not picked and the 6 MLB pitching teams not selected, and do an auction for those players, which would take the place, going forward into future seasons as a yearly draft. So besides having to study my newly inherited team, with each player's salary to keep us collectively at $135 million or less, I had to figure out which players would be available in the auctions that I could afford to bid upon to fill our holes. Now I need to note that I had never done an auction before but being good with math, I knew I would eventually figure out how it works and actually it wasn't that difficult to participate as I thought.
The MLS sets up various auctions in Steps using Stratdraft
Ok, here is how the auction worked within the MLS and I found this process very very interesting. Each team was given $100,000 to spend however they wished. To bid upon any player (or free agent) you hoped to acquire, you had to make an initial minimum bid of $5000 which could be increased by increments of at least $250 (or more) over the current high bid. So if someone bid $5000 on a player you wanted, you would have to bid $5250 to over-ride this bid at least. The auction was done on Stratdraft which is the on-line drafting system I mentioned before. It is the premium drafting system for SOM Baseball on the internet and many leagues are using it and swear by it. We have had some brief emails with its creator some time ago, speaking as the editors of the newsletter and he is literally a genius. We highly recommend that your league take a look at it which will greatly simplify your draft or auction. It is a beautiful system which is basically fully automated; that is once the system is setup with the players who are available to draft or bid and the rosters of the teams in your league, you are set. It is easy to interact with the system to see the current status of the auction or the draft, and to review what players are still available. Another nice feature which stratdraft has, if you wish, is it will automatically send to you emails when players are picked in the current round of your draft or new bids are made on the players available in your auction.
Below is a screenshot from Stratdraft of one of the auctions we conducted for the MLS, so I can use this as an example to explain to you how this system works. I thought doing an auction is a most ingenious way to gain new players for your team rather then just doing a straight draft where, when it is your turn, you just pick a player. Here you have to bid with the money you have against all the other managers in your league and there were plenty of times during the various auctions we had that I was being challenged with my bids and had to decide if I let a player go or I continued to bid on him and hoped to win that player.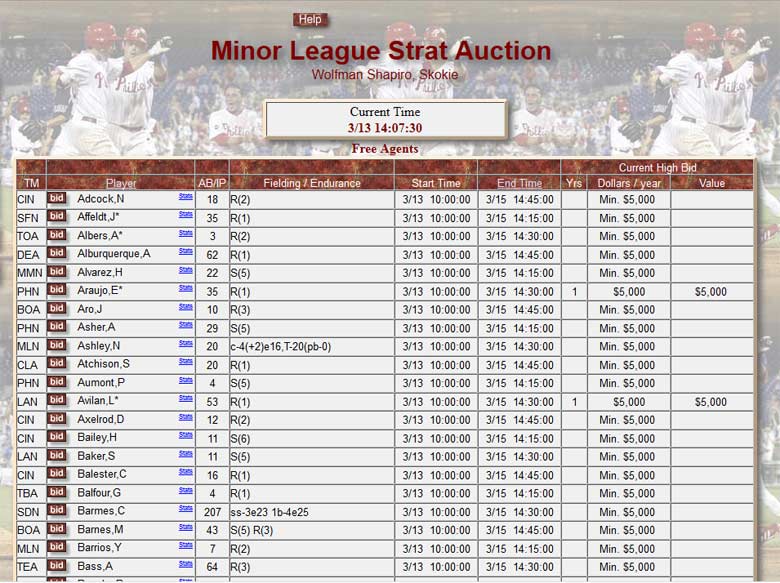 (Editor's Note - To learn more about Strat-Draft, go to www.stratdraft.com. There is a fee to use this service which gives your league officers access to setup the league draft or auction (importing all the available players plus the rosters of the teams in your league). Once the system is setup, then you can give a login and password to your league members so they can enter your league draft or auction and participate. This system will keep track of each team separately - for this article, I am only focusing in on the auction function).
Now, the screen above was from the a secondary auction that the MLS had in mid-March (I will explain the various levels of auction our commissioner setup shortly), showing from this auction which players were available. In this auction, it was a combination of free agents (players not picked yet in our team building process) or players who had been released (like the 5 players we let go off due to their large salaries). So not all the free players were either young players you had never heard of or players who had very bad cards. Some players who were not taken in the earlier auction was because their salaries were too high or stars which some of our member teams had to drop due to salary (like Cano from Seattle and Fielder and Hamilton from Texas). The purpose of the two secondary auctions we had (this was from the first one) were offered to help our teams make sure we had 36-40 players on our Major squad as well as keep our salary cap at 135 Million or below. Now, lets look at the screen shot above to describe what you will see in the Stratdraft main Auction Screen.
In this initial view, the players are listed alphabetically, but you can click on some of the column headings to resort it if you wish. You will see which team the player has a card from Strat (if the player was on multiple teams its the combined card for this year and last team they were on), how many IPs or ABs they had, the listing for pitchers as either a Starter, Starter-Reliever, Relievers and Closers and for the hitters their position(s) played and fielding rating(s). Then each auction has a beginning time when you can start to make bids and an ending time. Thus for this specific auction it was started at 10 AM PST on March 13th and would finish between 2:15-2:45 PM PST on March 15th.
In our league, all bids were for 1 year but some leagues can allow a bid to range for more than a year if they so desire. In the MSL, when we acquired a player, we keep him as long as we wish. Again we had up to $100,000 to bid with starting a bid on any player with at least $5000. Additionally, from the 1st round of the auctions we did, if we had part of the $100,000 we were given that was left, we received half of the remaining money added to another $100,000 for the two secondary auctions. This is why I had $101,250 to make my bids. You also see here the status of each player and whether a bid has been placed uponn them and what is the current top bid you have to beat to win the player.
In our auction, if more than one team is bidding on the same player at the very end (like 5 minutes before the auction ends), then the bidding for that player continues for 5 more minutes until the highest bid is no longer contested. Now there is another screen you can view (shown below) that shows all the players you bid on and how much of your money is left. I didn't show this in the earlier screen shot, but to get to this second screen there are buttons to the left of the auction table that give you all the options to view the auction, your team or other teams in the league. There are buttons options to pick which control how to setup your team settings, as well as view your teams draft (which also works for the auctions). So you would click on a button labeled "Draft Views", then a sub-button called "My Draft" and here is what my bids looked like early in this first secondary auction along with one player I did an ebay style draft bid on that I will explain shortly.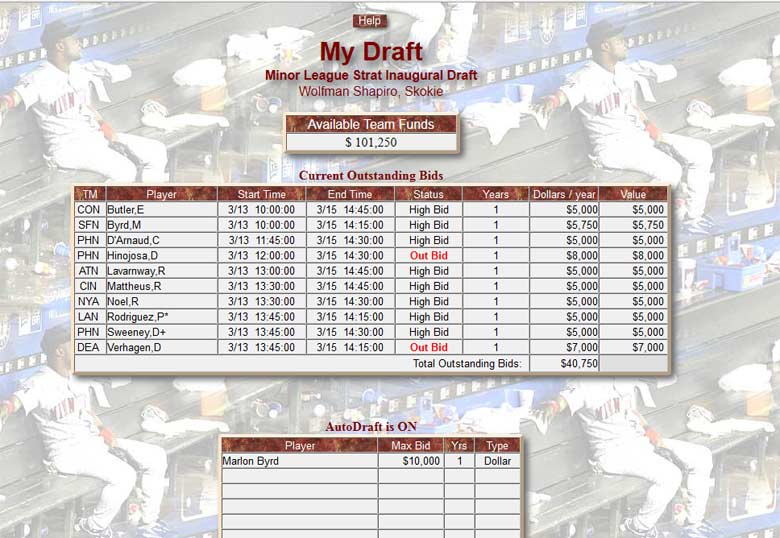 So, we see again $101,250 that the Skokie Wolfmen can spend in this secondary auction. Also, I have to make sure that any new players I might win and add to my team, that my salary cap is still $135 MIL or lower(Note: after this auction ends, if I need to, to get under the salary cap, I can still release a player or two if I choose). I will discuss more about the strategies I used during the auctions as I will use the Wolfmen as an example team linked to the bids I made, to build our team to fill our holes and get a few more good young prospects.
At this point, as I entered this auction, I had 33 players on my major league rosters, so I need to acquire at least 3 more major leagues to get my roster to the minimum size of 36 players or up to 40 players. I also hoped to fill in two perceived holes which was trying to get another RH outfielder we could afford against LHP - Byrd was our best option and; a catcher who could get on-base vs. LHP - Lavarnway was our best option and as you see above I did have bids on both players. So the bids shown on the screen above, at the time I took this screenshot were the highest bids that has been made to this point. If the auction ended and these were my bids - I would have acquired 8 new players spending $40,750 and been outbid on two minor leaguers.
Also the AudoDraft section shows you if I enter a player via the e-bay bidding system as I did with Byrd, that I was willing to bid up to $10,000 to get him - as he was the most important player we really wanted. If some one else bid over us at $5,750 which was the top bid at this time, the system would automatically bid over their bid by $250 for us and do this repeatedly up to $10,000. This is in fact the same system used in E-bay, and also is for managers who are too busy to be physically present. They can have stratdraft bid for them and do so until their maximum bid is reach.
Ok then, so this should give you a good idea now how an auction works on Stratdraft. Lets see what I was able to do to help our team starting with the first auction we did which were all the players from the six hitting teams which were not picked (Atlanta, Milwaukee, New York Yankees, Philadelphia, San Diego and Tampa Bay) and the six pitching teams (Boston, Cincinnati, Colorado, Detroit, Milwaukee, Philadelphia).
So in this first auction we picked up 3 pitchers, that we had the winning bids for: Blaine Hardy, DET LRP with a salary of $514,000 (paid $5,750); Clay Buchholiz from Boston, his salary was 12.25 MIL (I paid $14,000 for him -- note, I tried to get Wade Miley to give me a 3rd LH starting pitcher but I was overbid and I could only afford one good starter so we had to go with Buchholtz who I could afford due to releasing Guthrie and Holland - we liked Bucholtz in that he has no homers on his card). I was also able to get a young pitcher from Philadelphia who might be good in 2016, Adam Morgan, his salary is $507,500 and I paid $5,750 in the auction to give us that 3rd lefty starter (behind Vargas and Duffy) who had 86 starting innings.
On the hitting side as I discussed, we were weak against LHP and I really needed to replace Rios. There were basically two good RFers in this Auction, Markakis from the Braves and Braun from Milwaukee. I didn't like Markakis as his defense and on-base was way down from previous seasons and I knew someone would pay a mint to get Braun. So as I was looking at the available players I thought, hey what about Gardner from the Yanks, who even though he is not rated for RF, due to Strat rules, he becomes a RF-2 with a low e-rating. So it was a battle and he was the most expensive player we bid on for this first auction as we had to pay $41,500 to get him with his salary was 12.5 MIL, which I could cover and offset by releasing Rios and Infante. Then I had a chance to get Adonis Garcia from Atlanta who could become a dark horse at 3B in the future with great power vs. lefties (at a salary of only $507,000). I bought him for $12,000 and only paid $8,500 to get Chris Young from the NYY to help us with another RH OF who is good vs. LHP, who only had salary at 2.5 MIL.

Finally since Zobrist doesn't have enough PAs at 2B for the full season, I bid and won Jace Peterson from the Braves, a good young 2B (also at a salary of $507,000) to use for defense and to play vs. RHP for $11,250. So in this first auction I had acquired 7 new players who I felt helped our holes quite a bit. What do you think?
So below is how our team looked with our major league players and salary after this first auction which doesn't show the five player we released that I mentioned before and their salaries:
Skokie Wolfmen
Pitchers
Role
Salary
Hitters
POS
Salary
Jason Vargas
SP
$8,500,000
Alex Gordon
LF
$13,750,000
Edinson Volquez
SP
$7,500,000
Kendrys Morales
DH
$6,500,000
Wade Davis
RP
$7,000,000
Eric Hosmer
1B
$5,650,000
Luke Hochevar
RP
$4,000,000
Alcides Escobar
SS
$3,000,000
Danny Duffy
SP
$2,425,000
Lorenzo Cain
CF
$2,725,000
Kris Medlen
RP
$2,000,000
Mike Moustakas
3B
$2,640,000
Franklin Morales
RP
$1,850,000
Salvador Perez
C
$1,750,000
Kelvin Herrera
RP
$1,600,000
Jarrod Dyson
CF
$1,225,000
Ryan Madson
RP
$850,000
Christian Colon
SS
$509,525
Yordano Ventura
SP
$750,000
Paulo Orlando
RF
$507,500
Chris Young
SP
$675,000
Jonny Gomes
LF
$4,000,000
Johnny Cueto
SP
$10,000,000
Drew Butera
C
$987,500
Louis Coleman
RP
$725,000
Ben Zobrist
2B
$7,500,000
Blaine Hardy
RP
$514,000
Chris Young
RF
$2,500,000
Clay Buchholz
SP
$12,250,000
Brett Gardner
LF
$12,500,000
Adam Morgan
SP
$507,500
Jace Peterson
2B
$507,500
Adonis Garcia
3B
$507,500
Total Salary of Pitchers
$61,146,500
Total Salary of Hitters
$66,759,525
Final Total Salary of Wolfmen
$127,906,025
Money left to spend
$7,093,975
on new players

So this brings you up to the Secondary auctions, for which there would be two held. The first one, which I showed you part of the screens from Stratdraft began on Sunday, March 13th and went through Tuesday, March 15th and the other auction (again of the free agents left and a few more players who were released) was held from Tuesday, March 16th and completed on Friday March 19th. So my goals in the secondary auctions were:
a) to get another RH OF who could hit LHP
b) I missed out in the first auction to get a RH C vs LHP so if I could get one here :-)?
c) get my major league roster from 33 players to 36-40 players
d) get as many good potential young players either for our major league or minor league roster.
Now if necessary, there were a few players we still had which we could release to get a bit more salary if needed. But we couldn't afford at this point to pick up any of the super high priced players who were over 10 Million.
So on March 15th, the 1st part of the Secondary auction finished and we picked up 9 new players, 5 more players for our major league roster and four more minor league players (players who don't have the minimum IPS or PAs in the majors yet). We had $101,250 to spend and we spent $97,250. Here is a summary of what we picked up and a short description why:

Marlon Byrd OF paid $42,500 - wanted another RH power hitter vs. LHP - we have as you can see above Jonny Gomes but he is an OF-5 which would hurt us greatly in the field - we will lose Jonny next year as he goes to Japan to play and Byrd has had brilliant seasons in the past, his salary last year was 4 Million.
D'Arnaud Chase, INF - paid $5,000 - was once a top 100 prospect now with the Phillies, perhaps with the young Phillies team, he could blossom in MLB 2016 season and give us a good young backup infielder, his salary last year was $507,500.
Sam Lecure, RP - paid $5,000 - a last minute pick, didn't realize even with his 20 innings, that he is the best reverse RH relief pitcher with a blank card vs LH hitters. Again another pitcher who might blossom with the Reds, his salary last year was $1.525 Million.
Paco Rodriquez, RP - paid $7,500, another highly touted young pitcher for the Dodgers, again even though he is on our major league team, as he pitched for several seasons in the Bigs, he could be very good, his salary last year was $522,500
Randy Wolf, RHP - paid $7,500 - has a great card verse LH hitters - he retires so we get 35 good innings to par with Blaine Hardy and Franklin Morales, salary last year was $507,500.
Luke Maile, minor leaguer, was the only catcher we could buy via the auction, gives us 35 PAs to hit vs. LHP as Perez is very weak (which is surprise as normally he is strong vs lefties), is on the TB 40 man roster, TB doesn't have a strong catcher, could see work in 2016, we needed a good backup for Perez, paid $5,000
Rico Noel, minor leaguer OF, NYY - maybe he has a chance to break into Yankee outfield - C. Young is gone to the Red Sox and Beltran is getting old, took a chance, paid $5,000.
Darnell Sweeney, minor leaguer, INF, Phillies, he has a good chance to be a starter for Philly in 2016 as they rebuild, noticed him on some tv broadcast last year - not sure if he will improve in his fielding but is suppose to be a good hitter, paid $5,000
Drew Verhagen, minor leaguer, RP Detroit, he threw 26 innings and has a decent card, he definitely could help our pen later in the year when we use up Madison and Hererra - on the Tigers 40 man roster, listed as their #13 prospect, the Tigers need help in their pen he could see innings, paid $15,000.

So the Wolfmen's total salary with the 5 new players we acquired in the secondary auction for our major league squad came out to $134,968,525, just under the Salary cap.
So as you can see most of the nine players we acquired in the 2nd auction were young players who might do well in the future along with some of the good young players KC has in their farm system listed as their top 30 prospects (Mondesi - SS; Zimmer SP; Russell - P; Almonte - P; Starling - OF; Cuthbert 1b-3b; Dozier 3B; Bonifacio OF; Matias OF; Fuentes OF). I know KC lost a few of their players for 2016, so they will need the young guys to cover their holes in their 2016 MLB season.
What Team will Skokie Feature in the 2016 MLS?
I think via our auctions we were able to build a stronger team. However, just as I finished writing this article, I was able to make my 1st trade with the team known as Manchester, who was short of the 36 players he needed to have. So I traded to him two of our players to get my RH catcher with power vs. LHP. Here is the trade I made which means my chart of players above was slightly changed.
We traded Louis Coleman (only 3 IP, $725,000) and Drew Butera (good def catcher, $987,500) to Manchester to get Geovany Soto (ex-cub, good power vs LHP, ok defensively, 1.5 million) and got back $212,500 in salary).
Therefore, here is how our see our lineups and what pitchers we have to use for our upcoming season.
VS LHP
Cain CF
Escobar SS
Garcia 3B
Morales 1B
C. Young LF
Zorbist 2B
Byrd RF
Soto C
(Pitcher)
VS RHP
Gardner RF
Escobar SS
Morales 1B
Cain CF
Gordon LF
Moustakas 3B
Zorbist 2B
Perez C
(Pitcher)

Defensive Replacements - Hosmer 1B (1), Cain to RF (1), Dyson CF(1), Peterson 2B(2)

Starting Pitchers: Cueto / Ventura / Volquez / Buchholz
secondary starters: Medlin / Young / Duffy / Vargas / Morgan

Relievers (R): Madison / Hererra / Hochevar / Verhagen / LeCure
(L): Morales / Hardy / Wolf

Closer: W. Davis
Pinch Runner - Gore

I will report back later in the year how are team is doing and we will be looking for more trades as well. Also for the ball park we will play in, with 6 "1" fielders and Wade Davis with an almost unhittable card as our closer, we plan to select the San Francisco Giants ball park and go with the ballpark home run rating of just "1" verse both left handed hitters and right handed hitters.

================================
(Final Comments from the Wolfman: Well Strat-o-matic Baseball has really evolved over time. With all the new enhancements being made for the game to make it even more realistic, you have the chance to be a true GM (general manager). With a great on-line tool like Stratdraft, where you whole league can come together to do their draft or auction in an orderly fashion, we then begin to approach what it is like to make the decisions and be responsible like a real live GM. As you have to juggle your player's salaries and to build up your young players and prospects in your minors to keep your team strong for years to come. As we see with the Cubs, the Astros, even Kansas City itself which a few years ago had 9 prospects in the top 100 (who are now household names - Hosmer, Perez, Gordon, Moustakas, etc ...) you have to pay attention to all parts of your organization. Thanks to MLS League Office and to its commissioner for developing such a powerful way to build our teams. Hope you enjoyed this report to get an inside look into a special new league that is challenging us to the max!